Catherine

Release Date: July 26, 2011
Developer: Atlus Persona Team
Publisher: Atlus
Genre: Adventure / Puzzle
Plataform: PlayStation 3 / Xbox 360
Ok! Let's clarify a few things before anything else. If you are looking for a hentai game, with naked characters and sex, then get out of here and do not continue this review. Catherine is not a porn game. The most you will "get" is the cover image of the box art.
Have you ever cheated before?
Hmm! If I've betrayed before? Wait, what is to betray someone? If I only had one night of sex with someone else, but without love, it is considered betray? Vincent, a man of 32 years old, which is already in a stable relationship for 5 years with his girlfriend Katherine, goes through the same confusion in the game. The whole game is presented as a television program – Golden Playhouse – through a mix of scenes in anime, parallel to the incredible 3D cinematic.
Early on in the game, Vincent is in a discussion with his girlfriend Katherine. She says that both of them are on the same level of the relationship a few years ago and that she would like to go one step further in this process, citing the idea of a marriage. The moment the boy is taken by surprise by this suggestion of his girlfriend, a flow of confusing thoughts arise in his mind, questioning whether he is ready for all this responsibility, or whether to keep the field he is already familiar with in their relationship.
Frustrated with all the pressure, Vincent meets his best friends in a bar – which by the way is where much of the game takes place – and begins to drink to distract his head from these problems. A lot of drinks later, he don't know how he came to his home, and when he wakes up from a strange nightmare in the next day and looks to the other side of his bed… BOOM!!! Someone is there with him.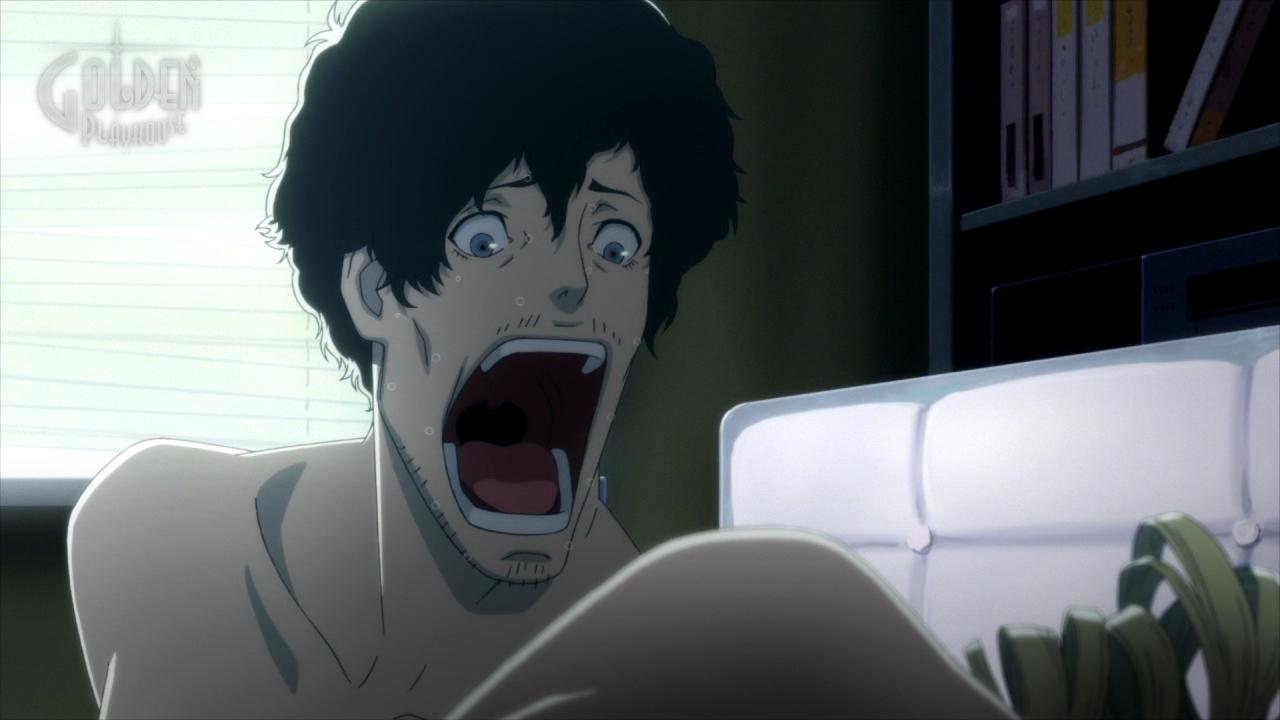 Vincent betrays his girlfriend Katherine with a young girl, blonde, blue eyes, perfect body – in other words, the stereotype of the ideal girl – and when he realizes, he makes it a daily habit and don't know how to control this situation. And to top it off, the new girl is called Catherine.
Not knowing what to do, Vincent continues his decisions throughout the game, couldn't decide whether to sever the relationship with Katherine and following an "adventure" with the new Catherine, or whether it should assume its responsibilities and accept the new stage  of life as a responsible adult.
What is most interesting in the game is the way each character behaves and how we are really faced with real situations of human relationships. It's awesome how the game treats Vincent in his confusion in the process of maturing as a person. And the huge difference between the personality of Catherine / Katherine is also a key point in this game, which you as a player, can choose what choices to take, and which way to go, assuming your own consequences.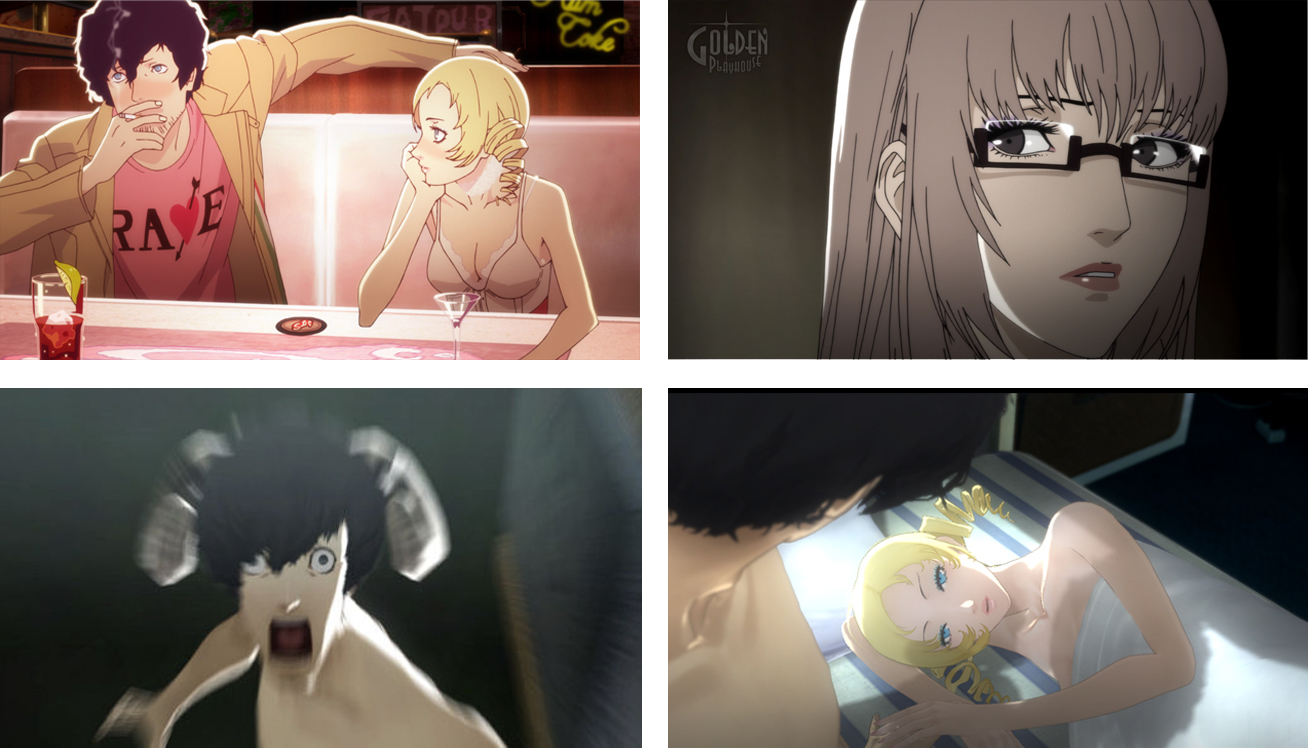 A Puzzle Nightmare
The game progresses in a space of nine days, in which you control Vincent in two different realities. While awake, you have control of the character within the Stray Sheep Bar, in which you must communicate with other people who are there, share information, better understand what are these supernatural cases that is happening in the city and, beyond to talk to your friends, read and reply to messages on your cell phone, which will completely change the history of the game, depending on the choices you make.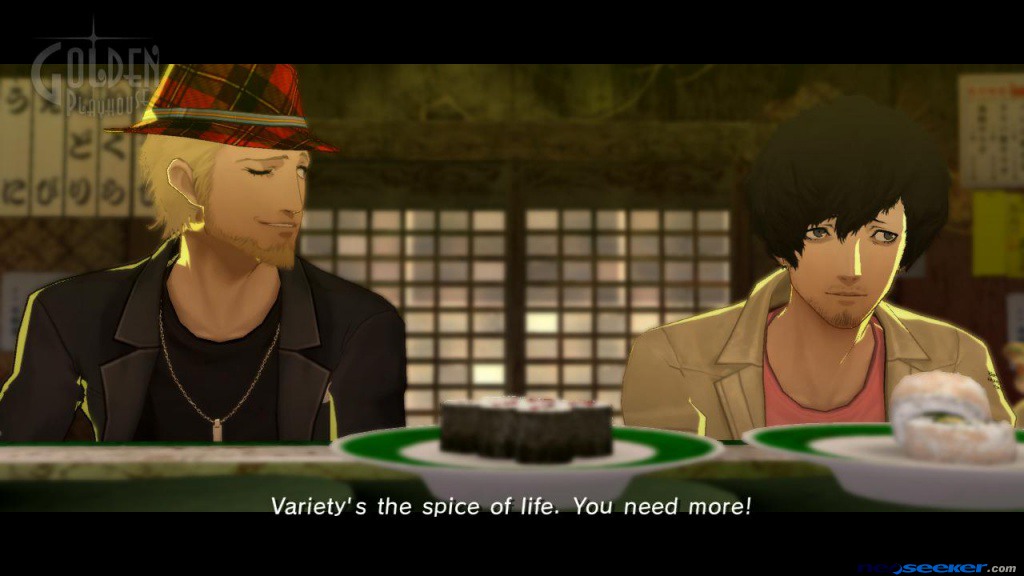 In moments that you back to your home and sleep, are the most active part of gameplay. The Main Gameplay takes place in Vincent's Nightmares. Unexplained deaths are occuring among men of different ages. What they say is that if you die during your nightmare, you will not wake up anymore. Freddy Krueger sends hi??
These Nightmares are organized into puzzle stages. Everyone who are in these nightmares are represented as sheep. Vincent – in a sheep form – must climb up huge staircases against time, to reach the top, before the whole place collapse. To accomplish this, he needs to pull, push and climb blocks the faster as he can, while avoiding various different kinds of traps. In the end of each group of stages, Vincent needs to confront a boss, who represents his deepest concerns of the previous day.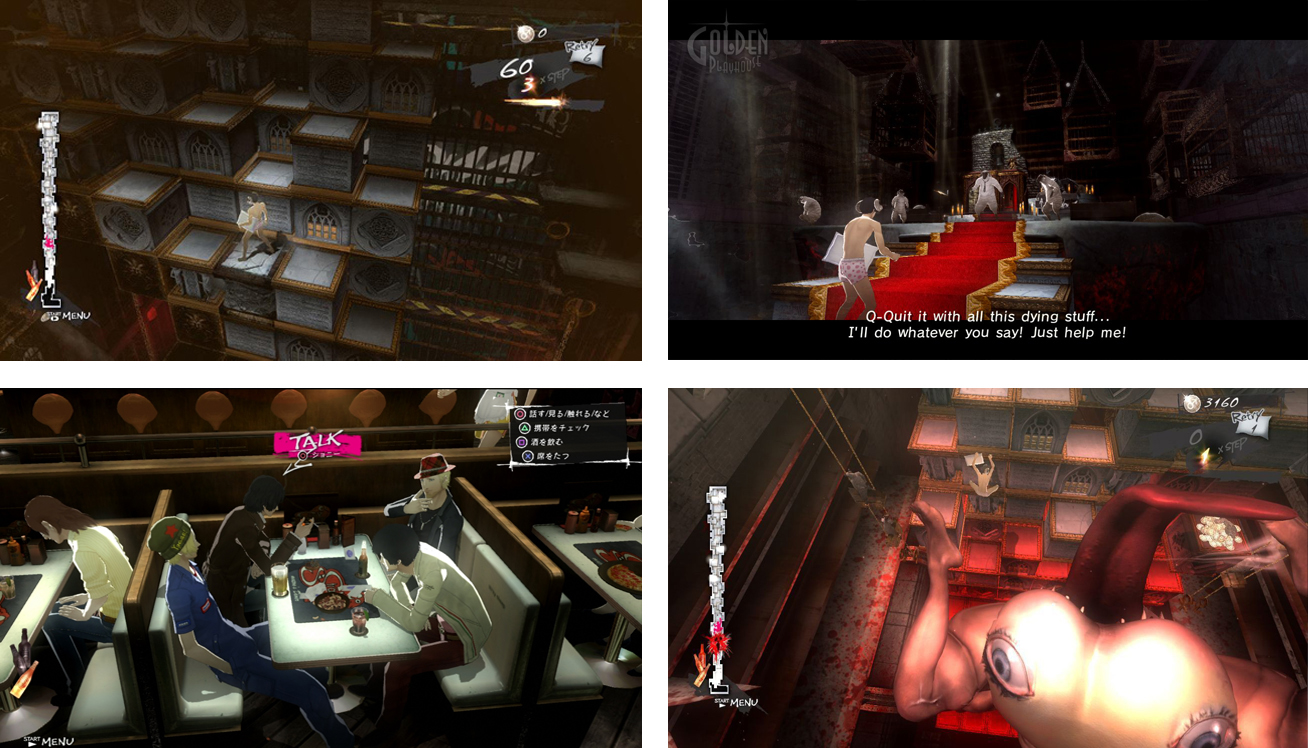 At the end of each level, Vincent has to enter in a confessional and answer questions related to relationships. Is really cool because when you do your answer, one table with percentage values emerges, showing what the vast majority of other players answered. And so the game does a search based on human behavior upon the response of each player.
The whole game revolves around betrayal, statistical data, consequences and on social punishments of that. The coolest thing is that from beginning to end, all your answers will be evaluated and influenced in the flow of history. Even in what Vincent will think about his relationship with Katherine and attitudes of upcoming.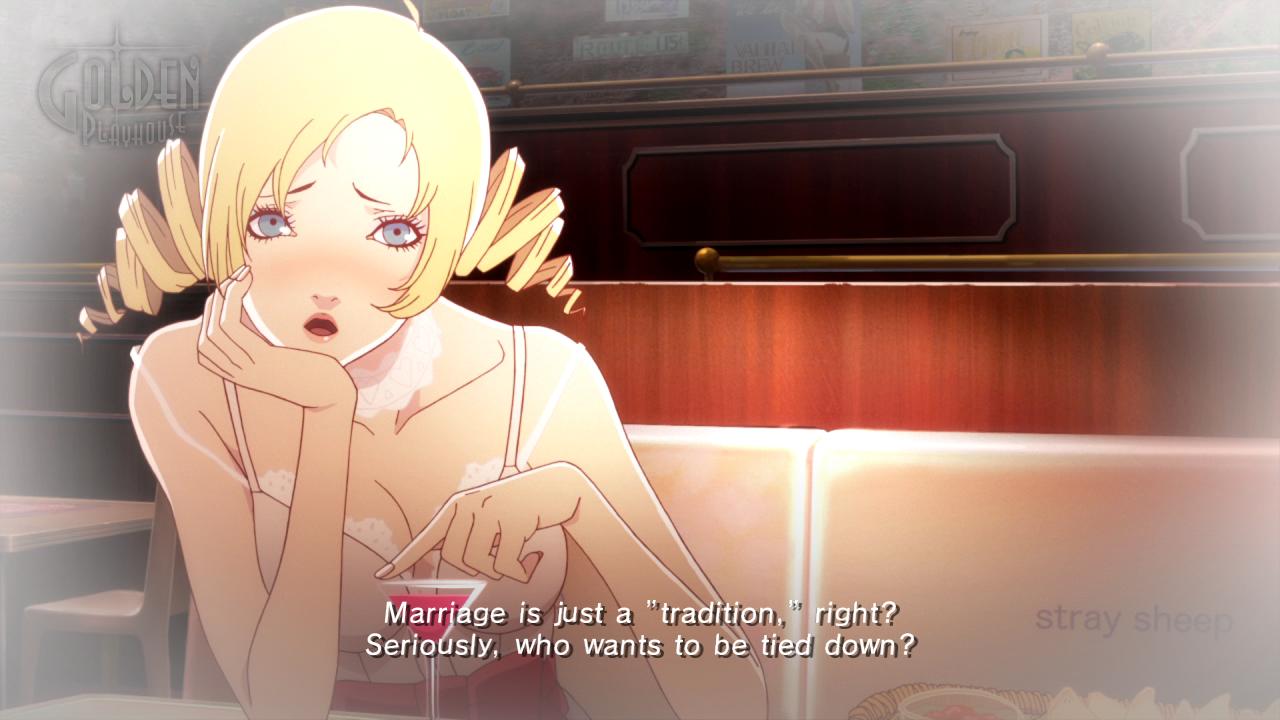 Love is Over
Catherine scored big points for creativity and a depth story. Although often a subject always present in the lives of almost everyone, the way the game creates this scenario and its characters, makes the game be a rare piece from the majority.
The game has an amazing art direction, with very charismatic 3D models, full of bright colors. Is it clear that the emphasis is to the anime scenes, which are really impressive. But the production art of the game managed well to put the two things together during the game.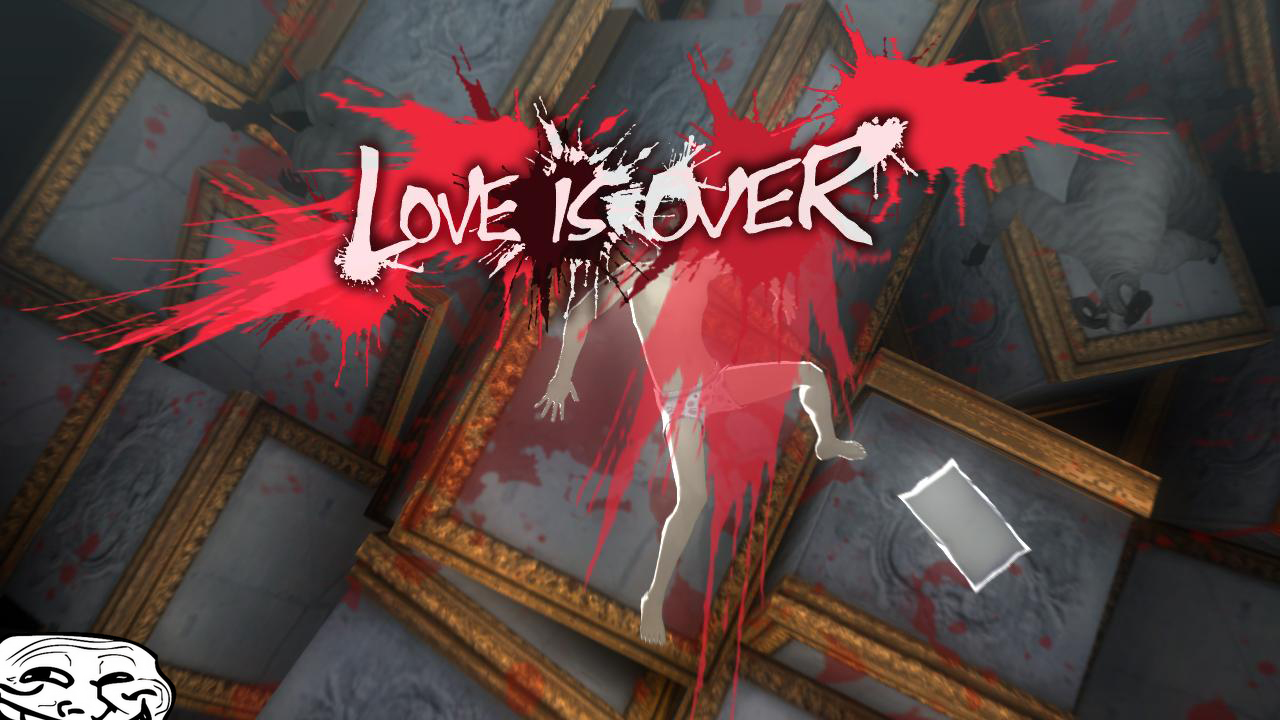 By contrast, although the game's soundtrack is composed by beautiful classical music, dubbing and synchronization of the game fail in a few moments during the dialogues between the characters in in-game scenes, especially early in the game. Is not something that actually makes you uncomfortable, but is remarkably in the beginning.
If you enjoy a good puzzle game and is addicted to anime and Japanese culture, Catherine has been done for you. Or if you just want to play to better understand what might be the consequences of a betrayal, feel free. Maybe that way you think twice before…
My Personal Score: 3,5/5
[button type="icon" icon="paper"]Written by Matheus Pitillo.[/button]