Level Overview:

Game Engine: UDK
The Factory is a Single Player Level divided into several Acts in which each member of our work team were supposed to cover one of the 3 storytelling acts (Act 01: Intro, Act 02: Confrontation and Act 03: Resolution). Each one of the Acts were done individually, but the whole Level had to make sense and complement itself, following the same genre, story and visual theme.
I was responsible for Act 2: Confrontation, a 5 to 6 minute gameplay experience . To do so, the player would be presented with a new type of Enemy AI for the first time, as well as some kind of reward that could give an extra weapon to him, or something that could influence the gameplay. Each Act had at least 3 main objectives, followed by 3-5 different enemies (Near, Far, Heavy, Minion) and 1-3 different enemy groupings using the enemy types that we created.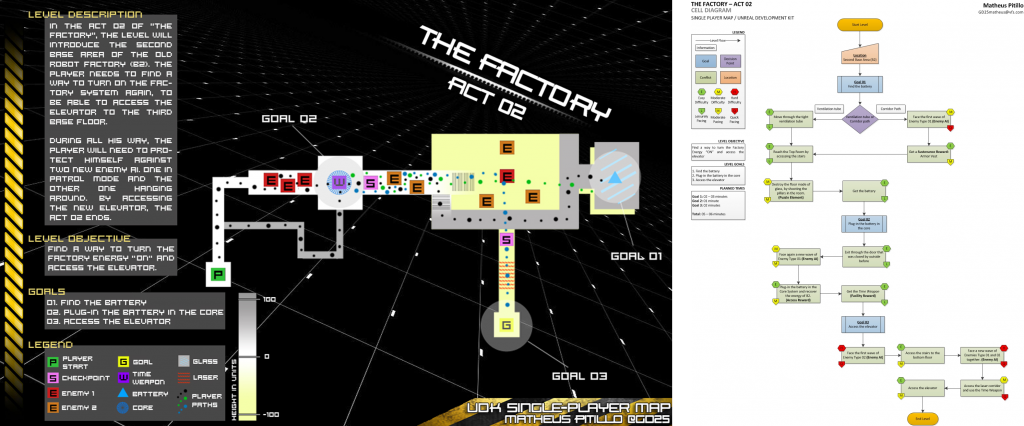 Design Notes:
As Level Concept, The Factory had the follow:
"In the future robots have become a part of everyday life. As we continued our inexorable advance with technology in the 21st century, we unlocked the desired milestone of Artificial Intelligence. Robots now work alongside their human counterparts, shackled by the Three Laws of Robotics. If a robot was ever not constrained by these laws, it is unknown what would happen… until today.
At a remote robot factory, a rouge AI appears to have been created. Its origin is unknown, but the military contract this company which has led the police to suspect clandestine research. All that is known now is that robots have taken over the facility and obey a different set of laws. Because of the potential danger to humans, a robot officer has been sent in to uncover and stop this AI before it can grow any stronger.
We begin outside the facility and must find a way inside and down to the heart of the facility."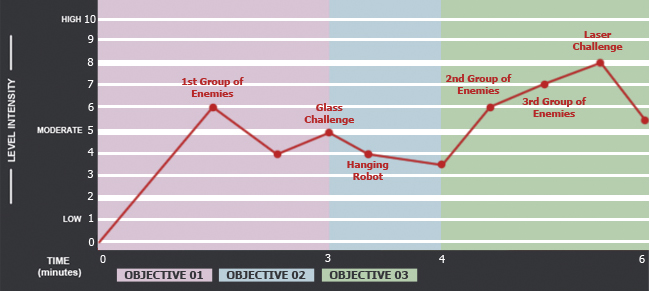 In the Act 02 of "The Factory", the level will introduce the Second Base Area (B2) of the Old Robot Factory. The player needs to find a way to turn ON the factory system again – by finding the battery and plugging it into the core – to be able to access the elevator to the third base floor. Along his way the player will need to protect himself against two new Enemy AI that will be activated right after the energy gets back. One enemy is in patrol mode and the other one hangs from the ceiling. By restoring the energy and acquiring the new Time Weapon, the player can cross the laser corridor and finally access the elevator. By accessing the new elevator, the Act 02 ends.
Estimated Difficulty: 7/10
Estimated Gameplay Duration: 5-6 minutes
Goals:
Find the battery;
 Plug-in the battery in the core;
Access the elevator.