The Art of Game Design: A Book of Lenses
Author: Jesse Schell
Publisher: Morgan Kaufmann
Paperback: 512 pages
As I said in my last post here in Life at VFS, the school recommended us to read some books to be prepared for classes and for our work in the Game area. So I decided to start my first Book Review with one of these recommended books. It's hard to me to review a book, as I never done this before, so I hope I can explain well what I'm trying to express here, ok?
How to teach about Game Design if this is an enormous subject, without beginning or end, and totally non-linear? There isn't one simple and correct way to teach how to create a great game. It's not like just say "do this" and everything is going to work well, since games involves a lot of characteristics from a lot of things. It seems a movie, with images and story from behind, it seems a book with some amazing narrative, but also is playable, is interactive, and changes with every choice of the player. But the hardest part of it is to understand what the player really like and search for, to have pleasure with this final product. Is too hard to just find the perfect recipe for success that will work for all tastes of all players. That's why a lot of books that try to teach about Game Design most of time don't have it completed successfully.
Jesse Schell is a Game Design Professor at Carnegie Mellon University and Executive Director of Schell Games – the biggest video game studio of Pittsburgh – with The Art of the Game Design, he shows that the technics to create a good game are around us every time, in every moment of our lives. He knew how to teach us in a non-tiring way, and with an amazing writing, the best fundaments that we need to know to formulate a powerful game for all tastes.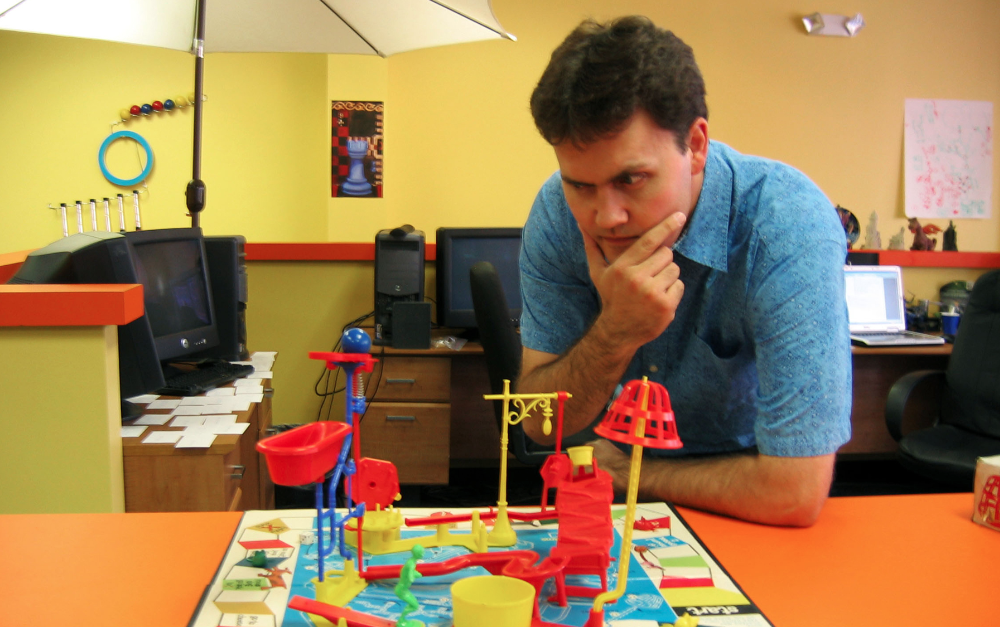 Wait! What the book is really about?
First of all, this isn't a book of Game Development. The author will not teach you about art, 3D modelling, programming or anything like that. All the writing is focused on Game Design: its mechanics, technics, iterating etc. And this is the best differential of the book, comparing to others with the same subject.
In one hand we will see from beginning a single map be transformed by every chapter, until complete in the end a full map with new concepts and technics. With this you can learn and create your own game following each one of these informations. This map allows you to understand better how Game Design is divided and how you can use it well. Even seems too hard to understand, the book explains very well every step by every chapter.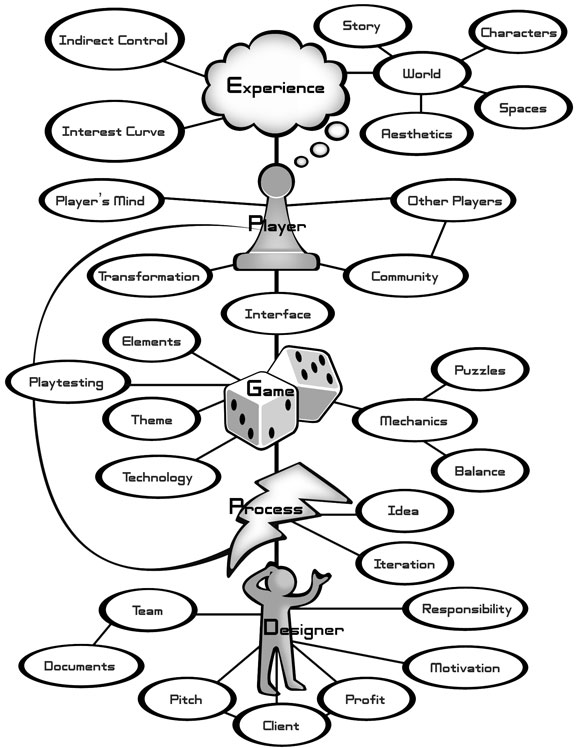 And in another hand – and not less important – the book presents a series of what the author calls of "lenses", or questions, that you can use in your game, or what you can ask about your game design, to see if you are following correctly the way of production. These lenses were very well studied and created with amazing concepts and technics that even new Game Designers can understand easily and start to use it on their own games.
The book starts with the basics concepts of Game Design, with the main examples – mostly with traditional board games – and then teaching about game mechanics, interface, puzzles etc.
It's normal to see the author citing moments of his life in which he used as an example to all his next creations, proving again that the game design is present everywhere. And exactly because the book is so transparent as well, we can feel that every moment is like you are having a dialogue with the author. It is interesting how the reading and accompanying of the book is simple and easy to understand, despite being so dense and with so complicated matters – especially in the chapters about the mechanics and interface.
The 100 Lenses
During all pages of the book we will learn 100 different Lenses, also know as 100 sets of questions that will help you improve your game. The more interest is that these lenses are collected from so diverse fields as architecture, music, psychology, film, anthropology, etc.
It's amazing how the author decides to teach us with a deck of cards. For us, players, what is best then one organized "game", with illustrations, informations and very well content? The "players" can buy the Deck of Lenses on the author website, or download the app for Android, iPhone, iPod or iPad, reading everything directly in your mobile.
I've tried the Deck of Lenses App on my iPhone, and I can say it works very good and it's great to have it with me all the time in hands. They have the same illustration as the real cards and are organized between category, alphabetic order etc. I do recommend to everyone too.
The Book Synopsis
"Anyone can master the fundamentals of game design—no technological expertise is necessary. The Art of Game Design: A Book of Lenses shows that the same basic principles of psychology that work for board games, card games and athletic games also are the keys to making top-quality videogames.

Good game design happens when you view your game from many different perspectives, or lenses. While touring through the unusual territory that is game design, this book gives the reader one hundred of these lenses one hundred sets of insightful questions to ask yourself that will help make your game better. These lenses are gathered from fields as diverse as psychology, architecture, music, visual design, film, software engineering, theme park design, mathematics, writing, puzzle design, and anthropology. Anyone who reads this book will be inspired to become a better game designer and will understand how to do it."

– Jesse Schell
Easy reading, easy to understand
The first time that I've listened about the book, I was in my old job, when I asked for a suggestions about books with this subject, and another Game Design friend of mine recommended The Art of Game Design. Since then I'm always using all tips and technics that the author presents to us. And it's not to be surprised that the school recommended this as one of the main books to study.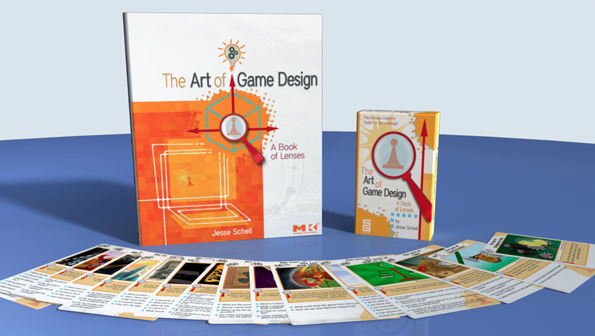 In my opinion The Art of Game Design: A Book of Lenses is one of the most powerful Game Design Books that I already read and seen in the gaming market. The easy reading, with a lot of amazing content even with just 512 pages, teach any new or old Game Designer the main principles that we need to know about Games and how to create a great one.
So, for any Game Designer, I truly recommend the book. I hope you can enjoy and learn so many things as I did.
[button type="icon" icon="paper"]Written by Matheus Pitillo.[/button]